AGM-to AGM
At last year's AGM we sold out at the original venue, expanded the room size, and sold-out again with over 100 members in attendance. (We broke even, despite ordering extra wine!) Nov 2015 President's speech here.)
At this years AGM in the Crypt, Farringdon, we again had over 100 members attending, 85 of whom are stayed for the dinner (prepared by the Bleeding Heart Bistro) and to hear guest speaker Howard Riddle (outgoing Chief Magistrate)
Our AGM Dinner and pre-dinner drinks were sponsored by Doughty St. Chambers, and Thomson Reuters (publishers of Archbold) . LCCSA members can purchase Archbold at a discounted rate-contact our administrator for details.
We also introduced changes to the constitution, and are bringing new blood into the committee. I am delighted that the unopposed candidate to succeed me as President was Greg Powell, highly experienced and highly regarded.
An extraordinary year
In the last 12 months, we have had a new PM, a new Lord Chancellor, a new Legal Aid Contract, new legislation to contend with, court closures, prison riots, Better Case Management and digital cases, and Brexit. And we lost David Bowie. We really have been going through changes .
And the end of my term in office co-incided with an extraordinary attack on the independence of the Judiciary in the tabloids, following the Brexit/Article 50 decision of the Court in Miller. Sadly, the incumbent Lord Chancellor dismally failed in her duty to stand up and protect the Judges from baseless accusations of bias, and portrayal as 'enemies of the people" , replacing a lengthy period of silence with a half-hearted and vacuous statement. The LCCSA wholly condemns the vilification of the Judges, and deplores the failure of the Lord Chancellor to support them. In Liz we Truss? I don't think so...
My review of the LCCSA year from the perspective of President follows:-
Nov-December 2015 and the meeting schedule...
I attended my first "Practitioner Group" meeting 26/11 and  a meeting at the MoJ. Thereafter, we had at presence at every monthly PG meeting, and at numerous other meetings with the MoJ or LAA, often Jon Black or Jenny Wiltshire (and sometimes others) attending with me or in my place for which I am very grateful. Thank you
Rhona Friedman and I attended the first London "CPS Engagement" meeting, and these are now established as quarterly meetings.
On 18/12 Paul Harris and I met LCJ Thomas and Lord Leveson. We had a frank discussion, and raised matters of concern, including BCM. I wore my Christmas jumper.
January and two tears
We supported the Justice Alliance Event last week which got the New Year off to an uplifting start, with great speaker Jeremy Corbyn, at that time the new leader off the Labour Party.
I bumped into Michael Gove (then still LC) when he visited Highbury Court, and presented him with a letter asking for a meeting. He agreed, but never fulfilled.
And then...WE DEFEATED TWO TIER!

I wrote in my January report "Now we must speak to the Lord Chancellor and MoJ about restoring a sustainable working Justice system. We have developed a set of proposed "alternatives to two-tier" ready to share with the membership and take to Mr Gove if and when necessary. We must ensure we have a seat at the table for his proposed advisory council."
Our proposals are still undeployed, but can be used as alternatives to fend off future threatened cuts.
The deferred second fee cut still hangs over us, and we will fight it.
February: Ghosts
We had to wrestle with the thorny issue of how to issue duty solicitor rotas, ensuring fairness whilst dealing with "ghosts". The BFG were already actively pushing their own agenda, and we did not have an agreed position with the CLSA.
Meetings with the MoJ proliferated and I am grateful to Greg Powell who stepped in to represent the LCCSA at these meetings. Greg was persuaded back onto the committee, and now look where that has led him!
We were trying to secure the best possible LA contract and the fairest way of devising the duty solicitor rota (tackling ghosts, rewarding quality).
In summary the LCCSA position was
-we opposed "breaking the link" between individual duty solicitors (whether employed or self-employed) and their slot on the rota
we opposed allocation by historic volume
We wanted to remove "ghosts" from the rotas, defined as those on the rota who do not fulfil their obligation to attend, and would like to see proper enforcement
Mad March meetings
We attended many meetings between defence groups and the MoJ about what should be in (and out) of the new duty contract, I secured an agreement that we could share details of the talks, which allowed us to consult our membership, and we were the only representative group to do so.
We held a meeting at TLS on 6th March, and held a survey of members opinions.
The LCCSA alone opposed "breaking the link" between duty solicitors and their slots.
The LCCSA successfully argued against allocation of duty slots by "historic volume" (HV allocation was aimed at consolidation which we have always opposed)
I also met with:-
Hugh Barratt (LAA- now gone!), MoJ ,Freelancers Association,(we were the only representative body that recognised autonomous freelancers) the Senior Presiding Judge and I attended the All-Party Parliamentary Group on Legal Aid.
APRIL/MAY and BCM
Discontent and teething problems kept accruing with DCS, BCM and PTPH.
Kerry Hudson has been keeping on top of this for the Association, and I thank her.
Law Reform
Thank you to Tony Meisels for the excellent work on so many consultations this year. The one on "Guilty plea sentence reduction" stands out in my mind. This follows years of hard work by Tony as Law reform Officer, and we thank him (he stands down at the AGM)
Training
We had a brilliant programme of training events, and thanks to Diana Payne for her hard work, as well as to all our speakers, including Judge Peter Rook, DJ Tan Ikram and many more.
London Legal Walk
An LCCSA team participated in the London Legal Walk, and thanks to Charmaine Japaul for organising.
Ding-dong Bell
Gary Bell QC was appointed by his friend Gove to chair an "advisory" committee. It lacked credibility and we sensibly ignored it.
Football
Congratulations to Steve Bird and the LCCSA veterans team on another outstanding season in the Legal Aid 5-a-side league!
Email discussion threads
We set up the new "all-member" email discussion facility (with an opt-out) and they are frequently used.
June-July More Meetings, and a Summer Party
Thank you to all who attended, promoted,  helped with or attended the Summer Party . We fully sold out our and the feedback was overwhelmingly positive. President's speech at Summer Party here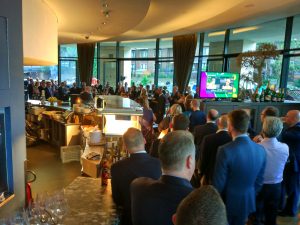 We also rejoined the London Criminal Justice Board. We love meetings.
Fighting Managerialism
We had a judicial response to the CLSA protocol and our blog https://www.lccsa.org.uk/the-magistrates-court-managerialism-vs-justice/ , and met the senior judiciary with the Criminal Procedure Rule Committee.
Response to Lammy review
Thanks to Greg P for an excellent submission on behalf of the Association.
Ghent
Our Autumn Conference in Ghent was a great success, and with great lectures by Rudi Fortson, David Josse QC and Adrian Eissa.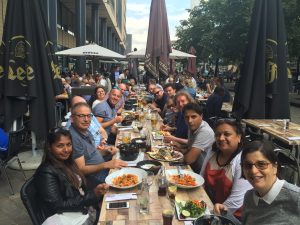 The Association is grateful to 25 Bedford Row and 5 St. Andrews hill for sponsoring the conference.
September/October Meetings
In addition to the usual, we participated in the new Crime Professional Engagement Group (thanks Mark Troman for taking that on). I gave a talk with Rhona at CPS HQ on difficulties in defending in mental health cases.
Lucinda Nicholls attended a meeting in Birmingham for us with the SRA about the need for them to tackle "touting"
The Advocate
We relaunched the Advocate- thanks to Leigh Webber for putting together the first digital edition.
Year End, and defeating the gagging clause.
Big news in the last month- LCCSA victory on the "embarrassment clause" (forcing the LAA to rethink clause 2.2) We were the only practitioner group named in the action that led to this, and can be rightly proud that we did not shy away from taking the fight directly to them.
FRIENDS OF THE ASSOCIATION
It has been a pleasure to work with the CBA (Mark Fenhalls and now Francis Fitzgibbon QC) and other colleagues at the bar, notably 25 Bedford Row, 5 St Andrews Hill and Doughty St.  We have worked with the Justice Alliance, and partnered with the Criminal Law Friendly Society. We have sought to work constructively with other Practitioner Groups at regular meetings.
The Association thanks HJA solicitors for use of their offices for training events, and Kingsley Napley For the very kind use of their offices for our monthly committee meetings.
Unfinished business and the challenge ahead
The postponed (second) fee cut or 8.75% has not gone away-it was only postponed (to March) Greg Powell and I have raised this with the LAA, and Sir Oliver Heald QC)
We have to persuade the MoJ to abandon it, and we have to be ready to act if they do not.
Conclusion
It has been a challenging but enjoyable year.
I have survived it only thanks to enormous help from a supportive and hard-working committee, whom I am proud to know as colleagues and happy to think of as friends.
(Outgoing President's speech here)
Long live the Association!