The LCCSA annual Autumn conference incorporated a short break in Seville, where the temperature of 34c was made bearable by the wonderful outdoor hotel swimming pool.
CPD Training was of the highest calibre, but the weekend also  included the city's best bars, restaurants, as well as visits to attractions such as the Alcázar palace, Bellas Artes Museum and lively bars including tapas and Flamenco dancing. Many delegates enjoyed  a walk along the banks of the Guadalquivir, past the 13th-century, dodecagonal military watchtower of Torre del Oro.
Lectures were provided but brilliant speakers from Garden Court chambers (below left) on Saturday, and from LCCSA favourite professor David Ormerod on Sunday (below right with president Greg Powell)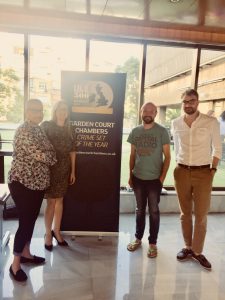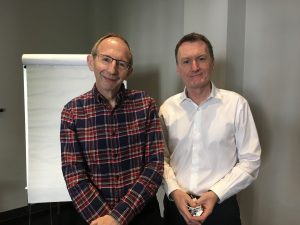 The Association is grateful to Garden Court and Forensic Equity for their generous sponsorship of the weekend.
A fuller report on the weekend will follow in the next edition of The Advocate, but without of course details of everything that happened in the bars late at night (strict rules of confidentiality apply, and "what goes on tour, stays on tour" )
The weekend was a great success- if you missed out, make sure you book for our conference in 2018!
In the meantime, dont forget to save the date for our AGM dinner next month (13/11)